Filthy Rich Star Studded Jewelry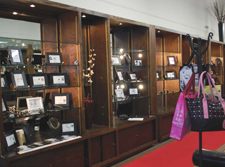 Shopping in Downtown Charleston has reached a new level of elegance with the grand opening of Filthy Rich. The unique store offers affordable reproductions of jewelry you probably recognize from classic movies, museums and tabloid celebrities and have always dreamed of owning. Jordan Harris, owner of Filthy Rich, explained that her most popular pieces are licensed, exact replicas from the Old Hollywood and Jacqueline Kennedy Collections. Each piece comes with a keepsake box and certificate of authenticity.
Filthy Rich carries an extensive inventory featuring a wide range of styles from various eras. Many classic pieces are available, including Vivian Leigh's famous emerald earrings from "Gone With the Wind," Audrey Hepburn's diamond drops from "Roman Holiday," Jacqueline Kennedy's legendary triple-strand faux pearl necklace and a stunning 14-carat diamond ring worn by Marilyn Monroe in the 1953 classic "Gentlemen Prefer Blondes."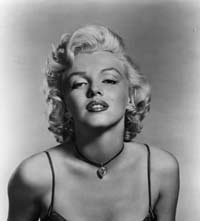 Marilyn Monroe's diamond pendant from "How to Marry a Millionaire"
Filthy Rich has dedicated sections for both Marilyn and Jackie O., and the salespeople make no secret of their fondness for their favorite icons. Just being in the store is an experience that goes beyond shopping.
Do you still need reasons to visit Filthy Rich? Maybe you would be interested in a replica of Princess Diana's engagement ring or "The Heart of the Ocean" necklace featured in the 1997 blockbuster "Titanic." Harris, who graduated from the College of Charleston with a double major in Art History and Arts Management, has stocked a generous selection of museum-inspired and historical pieces ranging from an Egyptian turquoise and gold necklace, locally hand-crafted sterling chain mail and reproductions of Salvador Dalí's storied jewelry collection, alongside pieces inspired by Fabergé, Monet and many others.
It might surprise you that there are plenty of items for men in the store, as well. From a John F. Kennedy campaign watch to rings worn by Clark Gable and Humphrey Bogart, there is no shortage of items from which the male shopper can choose.
"The pieces are timeless and the stars who wore them are icons who will never grow old," Harris said. "We have pieces that are inspired by artistry in museums around the world and more modern pieces, as seen in the 'Twilight' series, 'Sex and the City' and worn by stars such as Angelina Jolie, Madonna and Oprah Winfrey. Our customers love our products because they are high-quality, precise replicas that represent much-admired celebrities and historical figures – and we offer them at amazingly affordable prices."
Filthy Rich was founded in Orlando and has locations around the world, but the Charleston store is the only one in South Carolina. Harris, a first-time business owner, is passionate about the merchandise she offers.
"I come from an entrepreneurial family, and I believe in Filthy Rich and the products I provide," she said.
The jewelry offered at Filthy Rich appeals to every age group. The store also carries a wide range of collectables, including Audrey Hepburn buttons, cigarette holders and novelties from the hit television show "I Love Lucy."
At 61 S. Market St., Filthy Rich is within walking distance of the cruise terminal in downtown Charleston. To view a sampling of what's available in the store's showroom, visit www.shopfilthyrich.com or call (843) 805-8488.
by Stacy Domingo