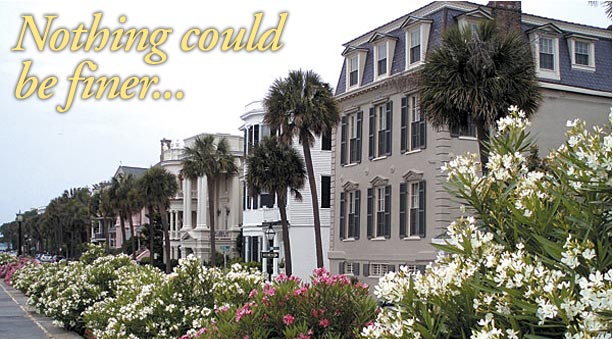 Bon Voyage, Y'all
There could not be a better vacation combination than Charleston, South Carolina, and the world-famous Carnival Cruise Lines. Few places compare to the historic beauty and ambience of Charleston and, when it comes to leisure and fun, the world's largest cruise operator offers fantasy on the blue waters of the Caribbean Sea. And what could be better than listening to the rhythms of the islands as the beautiful skyline of Charleston fades in the distance?
The port of Charleston has welcomed ocean travelers from every corner of the world for more than three centuries. In recent history, however, sailing ships and pirate vessels have given way to today's enormous container ships and a variety of pleasure craft. Although cruise ships are not an uncommon sight, Carnival is the first to offer a regular schedule of cruises originating in the Holy City.
The 2,056-passenger Carnival Fantasy will whisk people away for leisurely five-, six- and seven-day cruises from Charleston to ports of call in Nassau and Freeport in The Bahamas, Key West, Florida, Grand Turk and the private Bahamian island, Half Moon Cay.
Half the adventure is getting there, and, along the way, passengers will enjoy amenities such as a 12,000-square-foot health spa, extensive facilities for kids in three age groups – 2 to 11, 12 to 14 and 15 to 17 – and a variety of formal and casual dining options to go along with a dozen bars and lounges.
Other exciting features of this spectacular ship include Carnival WaterWorks, an expansive, all-ages park featuring a 300-foot-long water slide, 82-foot-long dual racing slides and a splash zone. The ship also offers Serenity, an exclusive adults-only retreat, and a resort-style main pool area. An Internet café with ship-wide Wi-Fi access and cell phone service are available, and the Fantasy's variety of spacious and luxurious cabins all feature the exclusive Carnival Comfort Bed system.
According to Carnival Cruise Lines, the decision to greatly expand its Charleston operations was based on a number of key factors, including the Holy City's convenient location in the Southeastern United States and Charleston's already established reputation as one of America's most popular tourist destinations. With more than 140,000 passengers expected to depart from the passenger terminal downtown, accommodations and other revenues are likely to rise since many of these sea-bound travelers will add an extra day or two to enjoy Charleston's attractions.. "Charleston is an extraordinary city within easy reach of millions of U.S residents who will now have convenient access to Carnival's fantastic and affordable cruise vacation options year-round," said Carnival President and CEO Gerry Cahill. "Our past experience with the port of Charleston, which has a very efficient and conveniently located... Click to read more
Read About...
Goose Creek
|
North Charleston
|
Johns Island
|
Summerville