Carnival Cruise Lines, Charleston, SC
By Bill Farley & Barbara Patrick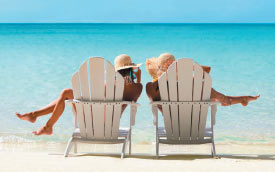 There could not be a better vacation combination than Charleston, South Carolina, and the world-famous Carnival Cruise Lines. Few places compare to the historic beauty and ambience of Charleston and, when it comes to leisure and fun, the world's largest cruise operator offers fantasy on the blue waters of the Caribbean Sea. And what could be better than listening to the rhythms of the islands as the beautiful skyline of Charleston fades in the distance?
The port of Charleston has welcomed ocean travelers from every corner of the world for more than three centuries. In recent history, however, sailing ships and pirate vessels have given way to today's enormous container ships and a variety of pleasure craft. Although cruise ships are not an uncommon sight, Carnival is the first to offer a regular schedule of cruises originating in the Holy City.
Carnival Fantasy Cruise Ship
The 2,056-passenger Carnival Fantasy will whisk people away for leisurely five-, six- and seven-day cruises from Charleston to ports of call in Nassau and Freeport in The Bahamas, Key West, Florida, Grand Turk and the private Bahamian island, Half Moon Cay.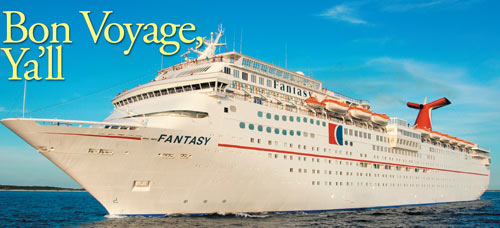 Half the adventure is getting there, and, along the way, passengers will enjoy amenities such as a 12,000-squarefoot health spa, extensive facilities for kids in three age groups – 2 to 11, 12 to 14 and 15 to 17 – and a variety of formal and casual dining options to go along with a dozen bars and lounges.
Other exciting features of this spectacular ship include Carnival WaterWorks, an expansive, all-ages park featuring a 300-foot-long water slide, 82-foot-long dual racing slides and a splash zone. The ship also offers Serenity, an exclusive adults-only retreat and a resort-style main pool area. An Internet café with ship-wide Wi- Fi access and cell phone service are available, and the Fantasy's variety of spacious and luxurious cabins all feature the exclusive Carnival Comfort Bed system.
Carnival in Charleston
According to Carnival Cruise Lines, the decision to greatly expand its Charleston operations was based on a number of key factors, including the Holy City's convenient location in the Southeastern United States and Charleston's already established reputation as one of America's most popular tourist destinations. With more than 140,000 passengers expected to depart from the passenger terminal downtown, accommodations and other revenues are likely to rise since many of these sea-bound travelers will add an extra day or two to enjoy Charleston's attractions. "Charleston is an extraordinary city within easy reach of millions of U.S residents who will now have convenient access to Carnival's fantastic and affordable cruise vacation options year-round," said Carnival President and CEO Gerry Cahill. "Our past experience with the port of Charleston, which has a very efficient and conveniently located cruise terminal, has been outstanding."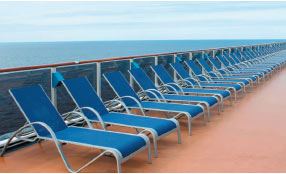 Terry Thornton, senior vice president of itineraries and revenue planning for the line, added "We're delighted to deploy the Carnival Fantasy to Charleston, which, in addition to a host of unique shopping, dining and sightseeing opportunities, features a gorgeous waterfront and unique architecture, interesting historical landmarks and more."
"We've been working closely with local port and community officials and are looking forward to an exciting future aboard the "Fun Ship" Carnival Fantasy," Thornton added.
Jim Newsome, president and CEO of the South Carolina Ports Authority, commented, "Cruise ships are attracted to Charleston for the very same attributes that we enjoy here every day. Carnival and this vessel fit perfectly with the internationally acclaimed Charleston tourist market, which draws passengers from the Southeast and beyond."
"We have enjoyed a successful, long-standing relationship with Carnival, and we are very pleased to significantly expand that relationship with a year-round calendar. This commitment by Carnival underscores Charleston's cruise development potential," Newsome added.
Cruising on the Carnival Fantasy
What else can cruise aficionados do aboard the Carnival Fantasy? Passengers will be able to enjoy a wide variety of entertainment options, such as a friendly Casino and a huge Spa Carnival and Health Club, where fitness fans can work out in three outdoor swimming pools and jog a well-maintained eighth-of-a-mile mile track, then relax in one of the ship's six whirlpools.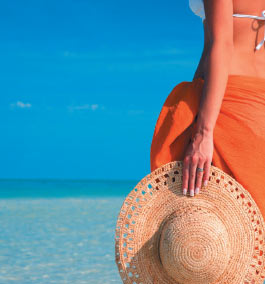 A game room and onboard activities including pingpong, shuffleboard, dancing lessons and a well-stocked library offer a range of pleasant diversions. There's duty-free shopping, and a barbershop and beauty salon, and all cabins offer closed-circuit television.
The Carnival Cruise Lines Total Choice Dining Program means that all passengers will be free to choose from a host of meal-time and snack-time options, among them formal dining rooms where the tables are always set for a first-class dining experience, including fresh lobster on every cruise, an extensive wine list and attentive service. For more intimate dining, there is a reservations-only steakhouse with a Manhattan-chic ambience and many hearty favorites. Casual dining includes a Europeanstyle café and plenty of kid-pleasing meal choices, from hamburgers, hot dogs and pizza to spaghetti and meatballs and more.
When the sun dips below the horizon, the Carnival Fantasy comes alive with night life to satisfy every taste, from the Universe Lounge, featuring Las Vegasstyle shows, to a varied lineup of entertainment in the Crystal Lounge, disco in the Electricity Dance Club, sophisticated piano in Cleopatra's Bar, plus a half-dozen other themed watering holes for cocktails and fun.
For veteran cruisers or first-timers, being able to enjoy the pleasures of the sea and visiting exotic ports without having to fly or drive to distant cities to embark is the best of all worlds. Carnival Cruise Lines' year-round schedule of sailing from the port of Charleston makes it all possible.
Is that the sound of a steel drum band in the distance? It just might be the Carnival Fantasy gliding past historic downtown Charleston as it embarks on yet another fun-filled cruise.
Bon voyage.