Kiawah Island, SC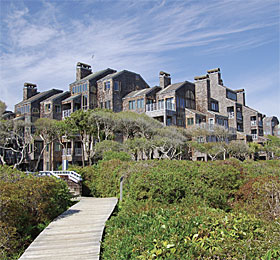 IT HASN'T BEEN LONG SINCE Kiawah Island was an overgrown hunting reserve accessible only by boat. Today, the exclusive island retreat, located 30 miles from historic downtown Charleston, is home to some of the most valuable real estate in the Southeast.
The Vanderhorst family, of Charleston, owned the 10-mile-long barrier island for almost two centuries, purchasing it around 1770 and keeping it until 1950. C.C. Royal, of Aiken, South Carolina, bought the island to serve as a private hunting and fishing reserve, and that was what it was used for until the Kiawah Island Company purchased the undeveloped land in 1974. A faltering economy limited development on the island at that time, and, in 1988, Kiawah Resort Associates bought it and made it what it is today–the ultimate in private island living.
Property owners in the exclusive community hail from 46 states and 21 different countries, but only approximately half of the 1,142 residents, about 400 families, live there year-round.
" Kiawah Island boasts one of the finest collections of golf courses in the country. "
Around 4,000 home sites are available for purchase. There is room for considerable expansion, but, to maintain the natural beauty of the island, the developers have limited the acreage that can be built on. Large tracts of wooded land are key elements of the island's secluded, peaceful feel, and protecting the island's many tidal marshes is a priority. Kiawah is home to a collection of ancient live oak and palmetto trees, and pine, hickory, sweet gum and magnolia trees are also found in abundance. More than 190 species of birds are native to the island, and residents work hard to protect the Atlantic loggerhead sea turtles that nest there.
Kiawah Island boasts one of the finest collections of golf courses in the country. The island is home to six masterpieces of modern golf course architecture, including the Ocean Course, which hosted the Ryder Cup competition in 1991. It is the only resort in the country that has three courses ranked on Golf Digest's list of America's top 75 resort courses, and Conde Nast Traveler recently listed Kiawah among the top 50 golf resorts worldwide.